Why can kids be so creepy? In particular small ones? And before you question the legitimacy of my inquiry or chastise me for being unkind about children, let me please draw your attention to the following creepy child specimens: Damien from The Omen, the twins from The Shining, the kid from The Sixth Sense. They all haunt me, those quiet-voiced, staring little beings, whenever I have to stay in a hotel by myself or get something from downstairs in the middle of the night.  And if you want to take it up a notch in terms of emotional damage, consider the gangs of little people from Village of the Damned and Children of the Corn.
Or, if you want to ruin the rest of your TV-viewing life then I can definitely suggest that you watch The Ring. You'll be waiting for that wet-haired dead girl to claw her way out of the well and exit your telly screen every time you're home alone. Even better, watch the Japanese version Ringu. Not to be confused with Pingu, Ringu will have you so terrified that you'll smash up your television set with a mallet and then – possibly – pop out your own eyeballs with a teaspoon so that you no longer have to worry about seeing Samara the well-dweller hauling her dripping body out onto your living room rug.
Anyway, what I'm trying to say is that there's a reason that creepy films often have kids in and that is because kids have a natural ability to scare the absolute bejeezus out of you. At any given hour of the day, if you are home alone with a tiny child, they will do something that – if put to a shrieking violin-sawing soundtrack – would be a proud moment in any psychological thriller. Here are the top three creepy things that small kids do:
ONE: SMALL KIDS STARE AT THINGS THAT AREN'T THERE
Cats and dogs do this, too (usually when you're on your own and it's stormy outside and you're too scared to close the curtains because your reflection might turn into the face of an old man with empty eye sockets) but kids, especially tiny ones, are excellent at staring intently at things that aren't there. So intently that you begin to question whether there might be something in the space between the doorway and the cooker after all. Wait, you think; did the cobweb hanging down from the extractor fan just move as though brushed by an invisible hand?
Of course, the phrase that comes to mind every time a child or animal in my house stares intensely at one particular spot in the room is: "I see dead people". We have Cole Sear from The Sixth Sense to thank for that one.
There are too many layers of dreadfulness to unpick when it comes to the idea of kids seeing dead people (layer one, most importantly, WTF are dead people doing hanging about in the kitchen next to the AGA?) but the comforting thing is that they tend to stare at empty spaces all the time. In cafes. On the street. In the park. So if they are seeing dead people (I have no idea how this post descended so quickly into such realms of darkness but now I can't seem to stop) then at least they are everywhere and not just in the kitchen/at the end of your bed.
Moving on.
TWO: SMALL KIDS WHISPER
Is there anything more terrifying than a whispering child in a horror movie? (An empty, creaking rocking chair almost pips it to the post, but not quite.) I mean, it can be eerie enough when kids whisper as a form of communication with actual living humans, but when they whisper and there's nobody there… Good God, it's enough to make me want to permanently seal my slow rebound foam earplugs into my ear canals.
"Don't be sad Jeremy Jones, nobody will lock you in the cupboard now."
Whispering children are one of my worst horror movie nightmares. And so I do not fare well in real life when I enter a room and a child is conversing with an unknown entity in their creepiest quiet voice. Thankfully it has only happened once with Angelica and she was just telling secrets to her giraffe ("SPEAK UP ANGELICA! THAT'S THE WAY, MY GIRL! TRA LA LA, NO WHISPERING HERE, WE SPEAK LOUDLY AND CLEARLY WHEN MUMMY IS AROUND!") but I have looked after other kids before in the past and they have had nice old whispery chats with various people who (hopefully) didn't exist, namely (not that they are etched into my memory or anything) "Henry the Hat Man", "Grammy Po-Po" and "Jacob".
(Flashback to me, aged twenty, demanding that the next door neighbour's four year old tells me who Grammy Po-Po is.
"Is she your granny, your grammy? Are you pretending to be on the phone to Granny?"
"Nope! She here with us!"
"Right. She's obviously not, though is she, so let's stop being silly. I'm trying to deal with a power cut and I only have the light of this one last candle left and the fuse box is of course in the basement and your parents aren't back for another six hours so just tell me where Grammy Po-Po lives, OK?"
"She's in the wall.")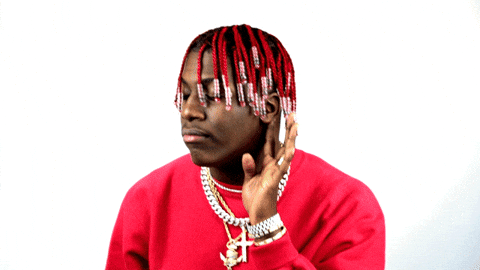 THREE: SMALL KIDS HAVE IMAGINARY FRIENDS
Sorry, but the imaginary friend thing is a no-go in this house. If either Angelica or Ted think they're having an imaginary friend in the future then they can think again, because nothing – I repeat nothing – is more creepy to me than a small friend who does not exist, who forces a child to stare into empty spaces and also whisper at them. It's triple whammy creepy and I'm just not having it, thank you very much. One whiff of an imaginary friend and I'm shoving them into the backseat of my imaginary car and driving them to the next imaginary village.
The problem with these imaginary friends is that they rarely seem to be a boring old generic child, one from a storybook or cartoon, who sits and drinks imaginary tea and likes to discuss the merits of various Paw Patrol characters. No, imaginary friends seem to invariably have complex backstories that are way too advanced for a small child to have invented and that is the most unnerving thing. Because, you do start to wonder, if you're like me and have an overactive imagination all of your own: how much of that complex backstory is imagined?
Take, for example, the child of a friend who sat having a right old natter with her imaginary person for about half an hour before her Mum intervened.
"Who are you talking to poppet?"
"To Mary, Mummy!"
"Mary?"
"Yes, Mummy. Red eyed Mary with the black cloak."
"Red eyed Mary?" (ALARM BELLS! WTF? I'd be legging it down the stairs before they'd even finished the sentence!)
"Yes, Mummy, she has been crying. Mary was trapped for a very long time but now she is free!"
"Trapped?" (Run, run like the wind!)
"Yes, Mummy. Her employer was a very mean man and she was kept for five and twenty days in the attic!"
Five and twenty days. Ugh. Shudder me timbers.
What else is creepy when it comes to small kids? Oh yeah – dolls. Nothing like a doll staring up at you in the torch beam, wide-eyed, when you're trying to find the Calpol dispenser in the dark. Cue the crazy violin solo. FWEE FWEE FWEE FWEE! Even teddies can scare the living daylights out of you when they appear in random places.
To be fair, many of you – especially those who have never been so stupid as to watch horror movies with kids in – will be wondering what the hell this post is about. I applaud you, I really do. The rest of you, please add some more creepy things to the list by leaving a comment below. I forgot to mention that weird, off-key singing that children do – that's a horror movie classic that, isn't it? Mary had a little lamb…
DISCLOSURE POLICY. Posts published after 24th January 2019: if the post contains gifted items or affiliate links then it is indicated clearly beneath the title.
 

Posts published prior to this will have a disclosure within the body of the post and then an asterisk * marking all affiliate links.

 

If the content is a paid-for AD then it is marked as an AD in the title.

 

For more information on disclosure please read here.